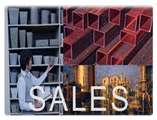 Engaged in e-selling of industrial commodities like Steel, Cement, Coal, Non-Ferrous Metals, Surplus Inventory, Pipes, Tubes, Used Plant & Machinery, etc.
Value addition to our clients by Total Outsourcing of activity.:
Due Diligence Study - Legal and Financial
Time bound completion of sale.
Handling of pain areas - backing out, non-lifting etc.
All India participation., ensuring maximum bidders thus ensuring a fair price
Huge database of buyers in various categories.
Major Commodities Sold with Value:
C R Products Sheets
- Value Rs. 18 crores
G P Products
- Value Rs. 10 crores
G C Products
- Value Rs. 4.5 crores
C C Products
- Value Rs. 1 crore
H R Products
- Value Rs. 4 crores
Tubes - ERW/CDW Commercial Quality
- Value Rs. 8 crores
CR NO/GO - CR NO/GO Off cuts, Trimming
- Value Rs. 4 crores
Commodity Selling Services
ZENITH BIRLA (INDIA) LTD
Qty :
100 MT per month
Value:
Rs. 35 lakhs per month
TUBE PRODUCTS OF INDIA
Qty :
300 MT per month
Value:
Rs. 12 crores per annum
SHREE PRECOATED STEEL
Qty :
2500 MT per month
Value:
Rs. 6 crores per month