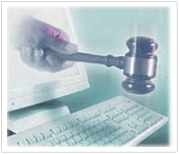 Creating operational efficiencies and managing costs is the prime goal for any business. Synise Procurement Auction Service helps enterprises reduce direct purchasing costs and streamlines the existing procurement processes. It successfully emulates established strategic sourcing practices on the web, bringing together buyers and suppliers online to reduce transaction time and improve transparency across the enterprise. It helps convert routine procurement activity into a strategic one.
A reverse auction (also called procurement auction, e-auction, sourcing event, e-sourcing or eRA) is a tool used in industrial business-to-business procurement. It is a type of auction in which the role of the buyer and seller are reversed, with the primary objective to drive purchase prices downward. In a reverse auction, sellers compete to obtain business.
In a reverse auction, a buyer contracts with a market maker to help make the necessary preparations to conduct the reverse auction. This includes: finding new suppliers, training new and incumbent suppliers, organizing the auction, managing the auction event, and providing auction data to buyers to facilitate decision making.